York County is home to many political subdivisions – the US House, State Senate and State House, County Precincts, County Council, School Districts and city/town Wards. And those subdivisions can change, at least once every 10 years after a Census, but sometimes more often following lawsuits over Gerrymandering. It can be hard to keep up, and too easy to find old, out-of-date maps.
Here are the best maps we could find in 2022.
---
US House of Representatives
In 2022, all of York County is contained within US House District 5. The incumbent and 2022 Republican candidate is Ralph Norman. The Democratic Candidate is Evangeline Hundley. The Green Party candidate is Larry Gaither.
US House District 5
---
SC Senate Districts in York County
In 2022 there are four South Carolina Senate districts that include parts of York County - 14, 15, 16 and 17 (District 15 is located entirely within the County).
State Senators serve four-year terms, with elections on 'Presidential' years, so the next election for Senators will be in 2024. The incumbents in Districts 14, 15 and 16 are Republicans. The incumbent in District 17 is Democrat Mike Fanning.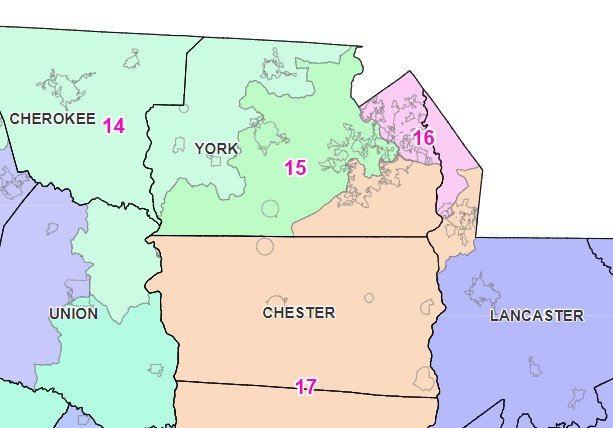 ---
SC House Districts in York County
In 2022, there are eight South Carolina House Districts that include parts of York County. That number changed with 2020 redistricting, with the County losing two districts (30 and 45), and gaining a new one (66). Of those eight, four have Democratic candidates. The other four have only Republicans. There are no 3rd Party Candidates. The 2022 Districts are: 26, 29, 43, 46, 47, 48, 49 and 66. John R King is the incumbent Democrat (and 2022 candidate) in District 49. The other incumbents are Republicans.
The Democratic candidates are: 26 Matt Vilardebo, 48 Andrew Russell, 49 John R King and 66 Carla Litrenta.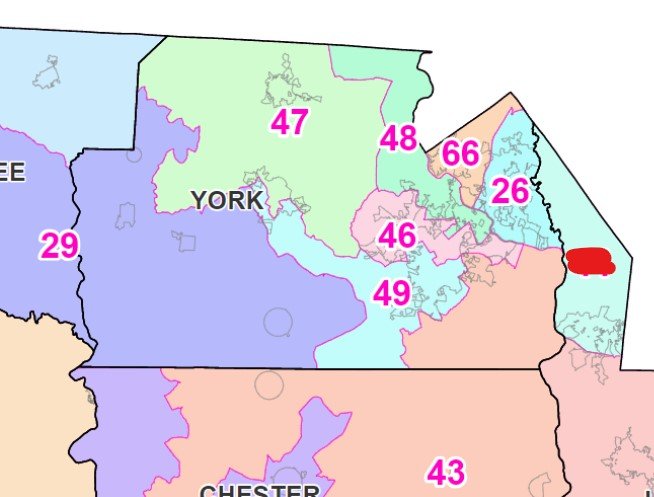 ---
York County Council Districts
There are six York County Council Districts. Council members serve 4-year terms. Three will be elected in 2022: Districts 3, 4 and 7.
Democrats are running in Districts 3 (Michael Schonfeld) and 4 (Incumbent William "Bump" Roddey). Note that while the Council races are partisan, it can be difficult to decode which party the incumbents belong to until ballots are published. The York County 'Elected Representatives' web page does not include party affiliation.
---
City/Town Councils
Municipal (City/Town Council) elections in all York County municipalities are held on 'odd' years, so the next set of elections will be in 2023. There are nine cities/towns in York County that hold elections. See the list here.
---
York County School Boards
There are four School Districts in York County. Each 'seat' is non-partisan.
Candidates are now listed on your sample ballot, specific to your school district.
School Board elections are becoming especially critical as Republicans are working overtime to fill those seats and make school boards into partisan political entities.
---
Countywide Elections
The Conservation District consists of a board of five commissioners - three elected County-wide in the general election and two appointed by the South Carolina Department of Natural Resources. The election is non-partisan. The 2022 Sample Ballot shows only one candidate – Beth Black White – with two empty slots and the instruction to 'vote for Two' (or less). We're looking into it.
---
Probate Court Judge
The Probate Court handles various matters including the administration of decedents' estates, the issuance of marriage licenses, the appointment of guardians and conservators, and involuntary commitments. It is headed by an elected probate judge who serves a four-year term, with elections in 'mid-term' Presidential years.
Probate Judge is a partisan, countywide office. In 2022, there is only one candidate on the ballot, Republican incumbent Carolyn Rogers.